Closing sprint 2022-04-17
by FPSD — 2023-04-25
---
Project name: FPSD
Project URL: https://fpsd.codes
Project sources: https://gitlab.com/fpischedda/fp-site
Sprint merge request: https://gitlab.com/fpischedda/fp-site/-/merge_requests/6
How it went
Sprint 2022-04-17 has been quite different from the first one, as I've already figured out some details on how to run this web site I have spent more time on the next steps for my projects. This is a good outcome because I was worried that I was spending too much time on marginal topics instead of making progress on my projects.
Finally I have released the Chrome Extension for Unrefined; I was procrastinating this release for too long and after mentioning it in a previous post I was feeling the pressure I've put on myself which gave the energy boots to finally make it public.
It is not perfect yet but at least I can start to get some feedback!
Numbers
I was trying to get to 100 unique visitor before making this post but, honestly, having reached 92 is already a good result for something started 15 days ago, and basically no network!
Lets have a look at what Plausible says: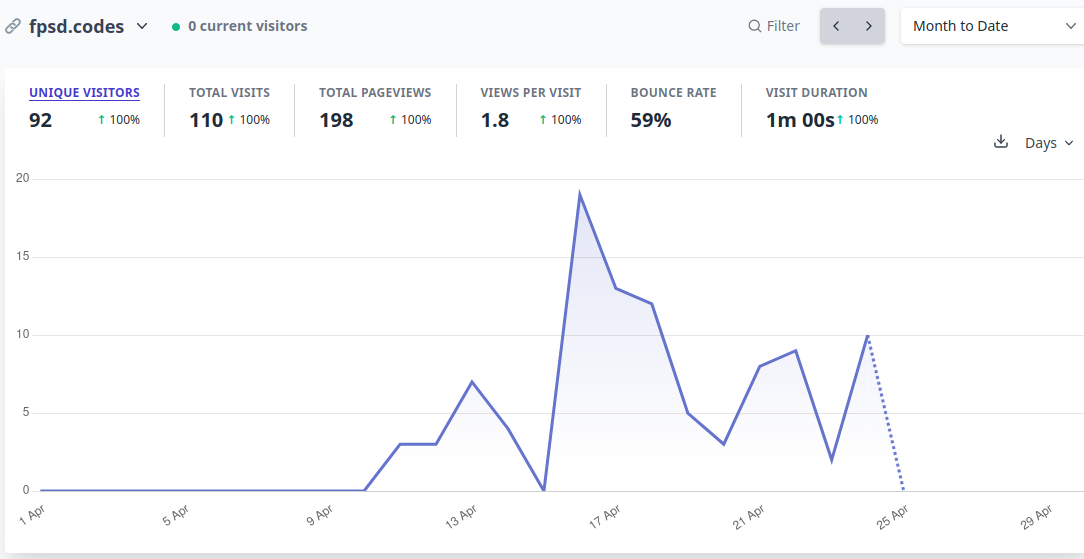 Key takeaways:
views are still too bounded to my post on socials, no recurring traffic
longer posts have better performance
(Not visible from the graph) Still no engagement
Some sources are better than others, in order: Linkedin, Twitter, DevTo, fediverse
Copy/Pasting the same post to all social account does not work well, especially on DevTo
Closing words
There is still a lot to learn but I am enjoying the experience so far. Being an introvert it makes it hard to push a bit more on the marketing side, but in the Internet no one knows that you are a dog ;) .
One last thing, I will discontinue the term "sprint" in favor of wave; to me it feels more in line with what I am doing and my mental processes.